Program
ALL IN ONE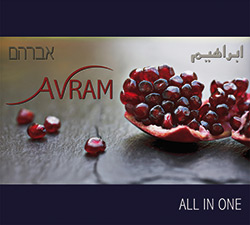 ALL IN ONE is the title of AVRAM's new CD, in which classical and oriental sounds, jazz songs and traditional and modern spiritual texts mingle freely in a music that is at once fascinating, meditative and lively.
While ALL IN ONE excels on musical quality alone, it is also a powerful statement on the current political and religious situation in the world.
excerpt from booklet
Introduction
`Save love, save love, we have no other work!´ This is the simple yet magical answer of the great Persian poet and mystic Rumi to the meaning of human existence. The beauty and topicality of the mystical poetry of different cultural traditions - some of it very ancient – has inspired AVRAM´s second CD. Educating the heart – therein lies the key to unlocking the individual´s potential for peace. With this message, sung once again in more than ten languages, the music draws on ancient traditions, translating them into a moving, contemporary and unifying language of sound.
The Pomegranate
The pomegranate as a symbol of life, love, perfection, beauty and fertility, and as a sign of wisdom, power, blood and death, can be traced far back to ancient cultures. The pomegranate is hold sacred by Jews, Christians, Muslims and Buddhists alike. It is said to be the fruit of paradise from the tree of knowledge with which Eve set in train the whole history of humankind. The pomegranate embodies rich and splendid diversity in unity, reason enough for us to adopt it as a symbol of understanding between cultures.