Murat Çakmaz — Ney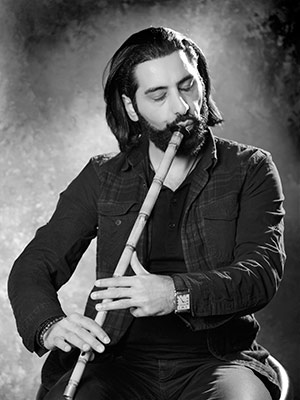 Murat Çakmaz grew up in a Turkish family of musicians in the city of Wesel and learned to play the baglama, the traditional Turkish long-necked lute, at an early age. Later, he learned to play the clarinet. It was only at the age of 14 that he encountered the instrument which, as he says, comes very close to his soul: the ney, a bamboo flute made of reed. He learned the Arabic (arabesque) style of playing from Behzat Tekbilek and expanded his skillls with Ömer Erdogdular by learning the classical style of the Ottoman religious art music (Sufi music). His encounters with the great masters of Turkey and his devotion to his instrument led him to drop out of his diploma in business administration and stop his training as a music sociotherapist and to devote himself exclusively to music.
In order to make the instrument more accessible to the Western ear, he has developed his own style of playing over the years. This allows him to produce a variety of sounds from both the Eastern and Western musical worlds and has given him access to many international music projects.
In addition to solo performances with various symphony orchestras, he has also been on the oriental music scene for several years and has made a name for himself as a sought-after session musician. Thus, he has accompanied the most famous oriental singers worldwide.
Besides the ney, he also plays the Armenian duduk and the Arabic kawala.
Murat Çakmaz sees the concerts with AVRAM as a challenge. The goal is to bring the different instruments of the various musical styles together, which requires good teamwork within the group. The result is a musical diversity that fascinates him again and again.
Murat Cakmaz | murat-cakmaz.com