Konstantin Wienstroer — Contrabass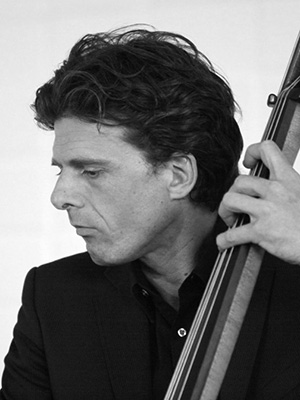 Konstantin Wienstroer's passion for music began at a young age. He started with playing the violin, but then he changed to the electric bass and devoted himself to popular music. At the age of 20, he was inspired by the American jazz bass professor Wayne Darling. Through him, he discovered the accoustic bass. He studied at the Folkwang Hochschule in Essen and was a Folkwang Prize winner.
His current music projects are wide-ranging. He is member of the André Krengel Acoustic Embassy, as well as of various world music projects. He plays jazz and other related genres in smaller groups and in the minimal trio Triobravo. He is also very active in his collaboration with the multi-instrumentalist Jürgen Dahmen and other musicians like Jörg Siebenhaar / accordion and Peter Baumgärtner / Drums.
The interaction of musicians from different cultures is what particularly appeals to Konstantin Wienstroer in the concerts with AVRAM. Here, exciting stuff can happen and many different things are brought together: "Perhaps it is possible, with fewer borders between the cultures of the world, to offer a little help and to awaken interest in something that is not far away and yet seems far-fetched for some."
Konstantin Wienstroer | kwienstroer(at)gmx.de